Style your hair with Heat Reactive Colour Hair Dye. This product provides a temporary and fantastic hair dye colour and coverage. Create a fun, festive,  matching personality hair style for Parties, Events, Halloween, any special occasion or even just for FUN!   

Now is your chance to experience the dramatic vivid iridescence colour  magic moment! Our Heat Reactive Hair Dye allows you to have the fun and surprises.
Simply apply the hair dye onto your hair and wait for it to activate. The hair dye will change colour depending on the temperature in your surroundings.  When the temperature is over 18°C/64°F, the hair dye colour will gradually glow and become vibrant.  It will definitely give you a wow factor and stand out from the crowd.  Put on the colour of your choice to match your unique personality and most importantly have FUN!  This product works best on a lighter hair colour. Also good for blonde hair extension pieces.  There are 4 colours to choose from. The product washes out easily. No grease, no stickiness.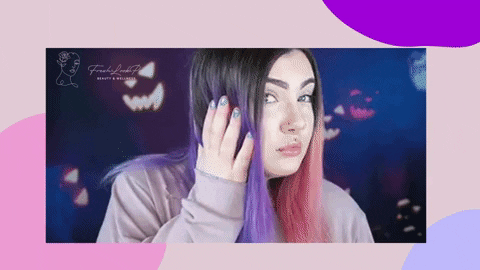 How To Apply? 
Easy Application 

Wear plastic gloves and a cloak to avoid soiling


Make sure the hair is thoroughly dry before the application

Perform an allergy test 24 hours before use

Avoid using conditioner or oil before colouring

Before dying your hair, apply skin cream around the hairline to reduce damage to the skin

Simply apply the premix onto your hair using a sponge or a comb to distribute the dye evenly. Wait for the dye to dry or blow dry.
If you feel unwell, stop using it immediately
Do not wash or rinse your hair. The dye is last for one wash only

Ingredients:
Nourishing Hair Colour Cream

Brazilian Argan Oil
Keratin Extract
Silicon Dioxide
Sodium lauryl Sulphate
Hydroxyethyl Cellulose
Disodium EDTA oil and etc
Specifications:

Product size: 13*5.5cm
Product weight: about 78g
Net product content: 50ml
Colour Option: Purple-Magenta, Yellow-Green, Pink-Blue and Black-Silver
Hair changes according to the temperature of your  surroundings

Package Includes:

1x Heat Reactive Colour Hair Dye of your choice

Notes:

This heat reactive colour hair dye works best on pre-lightened hair (bleached, highlighted, natural blonde) as well as natural light-coloured hair. Natural darker hair will need to be bleached or highlighted for best results. It also works on blonde extension pieces.
The colours and images shown here are for illustration purposes. The end result may vary from the actual product colour and each individual's hair colour

The colour difference may vary depending on the device of your monitor settings and resolution
The colour dye is for temporary use. It last for one wash only. If you are looking for a longer term colour dye, this product is not suitable for you